Review: Moshi Digits TouchScreen Gloves
Buy this product and automatically go in the draw to WIN "The Adventure of a Lifetime"
Review: Moshi Digits TouchScreen Gloves
Summary
There's nothing worse on a cold winter's day when you're out on the slopes, or standing in the cold - and your phone rings, or your message banks goes off - and you have to take off your nice warm gloves so you can check your phone or tablet. You never know, it could be something more important than a pesky telemarketer!
Now you don't have to remove your gloves any more! Stay warm and connected with Moshi Digits TouchScreen Gloves.
They are dual-layered touch screen gloves which are designed to be used with your mobile device. Each fingertip is made with a special conductive fiber that enables responsive and accurate gesturing on your smartphone or tablet. No more cold fingers!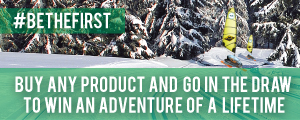 Buy this product and automatically go in the draw to WIN "The Adventure of a Lifetime"