Review: 3SIXT Full HD 360° WiFi Sports Action Camera
Buy this product and automatically go in the draw to WIN "The Adventure of a Lifetime"
Review: 3SIXT Full HD 360° WiFi Sports Action Camera
Summary
When you look at this 3SIXT Full HD 360 degree Sports Action Camera there are two things you're going to notice first. First, the size. it's tiny! It measures just 48mm on the longest dimension, 43mm on the others and it weights around 70 grams. Second, the price... not bad for something that would have cost you a small fortune a few years ago. Thank you technological advances!
Don't be fooled by this tiny little camera; it packs a punch. It has an LCD screen and ultra high definition video recording, a waterproof screen and the ability to save your footage (or review it live) with your smart device (and a WIFI connection). You can even upload straight to social media! It has an integrated 1.5″ LCD screen, microSD card slot for storing your footage, a 360 degree x 220 degree wide viewing angle lens and many essential accessories.
Great for taking with you on adventures when your space is limited!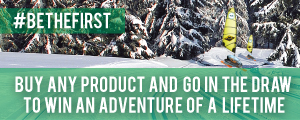 Buy this product and automatically go in the draw to WIN "The Adventure of a Lifetime"